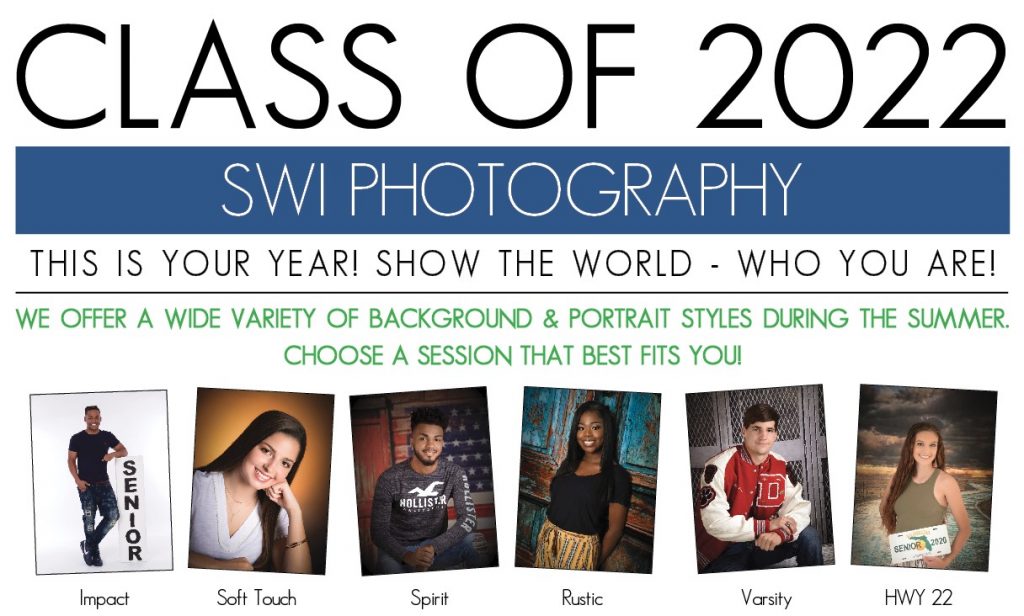 ---
Now Booking Class of 2022
---
PLEASE NOTE: November Sessions are occurring after some school's yearbook deadline for senior portraits has occurred.
WHAT IS INCLUDED IN MY SESSION FEE?
A session fee provides you the opportunity to have a specific number
of proofs made. No prints or products are included in any standard session fee. You will have the opportunity to purchase prints after you have seen your proofs.
The session fee also includes the ability to select your yearbook image, photographed during the summer, for publication. 
WHAT SESSION SHOULD I CHOOSE?
It's your senior year, so choose the session that fits you best. If you have multiple outfits and ideas, check out the Ultimate. View all the options on the opposite side of this letter. .

HOW DO I PREPARE FOR MY SESSION?
Remember, a tan is nice, but too much sun can cause redness and peeling.
If you wear glasses, we suggest that you are photographed with and
without your glasses. If you have frame-only glasses, those work the best. Some of the images will not work well with the lenses in your glasses.
Avoid any drastic changes before coming to get photographed.
If you plan on getting your hair cut, have it cut a few days before to avoid a fresh-cut look. Don't forget to shave.
WHAT SHOULD I BRING TO MY SESSION?
It is all about you. Bring anything that shows off your personality and
hobbies. Props can include athletic uniforms and equipment and
musical instruments. One outfit for each background style is always a good starting point. Check out our online senior gallery for ideas of what to wear for your chosen styles. It is a good idea to come dressed in one of your casual outfits, ready for pictures.
SWI Photography provides formal attire. Guys must bring a solid white t-shirt, and girls must bring a camisole or tank top to wear underneath the formal attire. We can not provide the undergarments due to sanitation measures.
WHAT ABOUT SOCIAL DISTANCING?
SWI Photography will follow all local and state guidelines designed to decrease the spread of COVID-19.
Please read the included letter about more precautions we are taking.